Document Scanning in Boston
Boston Document Scanning Services
Traditional Document Scanning
We understand that paper comes in various forms, and we have the expertise to scan any type you require. Whether it's credit card receipts or full-size architectural drawings, no job is too big or too small for us. Our services encompass optical character recognition (OCR), redaction, indexing, and more, all tailored to your unique needs.
Digitizing Micrographics: Microfilm Scanning and Microfiche Scanning
When you convert microfilm to a new digital format, these documents require expert care and handling. At Boston Scanning Services, our highly-trained and experienced staff have handled thousands of microfilm images. When necessary, our personnel in processing labs can even evaluate for microfilm flaws and also recommend procedures to enhance the film before scanning.
Boston Scanning Services uses high-speed film scanning equipment that can convert both 16mm and 35mm film. Our scanners are equipped with sophisticated image-enhancement software able to produce the highest possible quality electronic images for a wide spectrum of film reduction ratios.
Large Format Documents
Precision and expertise are essential when it comes to digitizing large-format documents. Our experienced team excels in managing and digitizing various large-format materials, ensuring top-notch quality. With high-speed scanning equipment, we efficiently convert architectural blueprints, maps, and posters, offering flexibility to handle different sizes. Our local scanning experts use advanced image enhancement software to deliver high-quality electronic images, ensuring a streamlined and efficient process.
Benefits of Digitizing Your Important Documents with Boston Scanning Services
Streamlined Storage and Reduced Expenses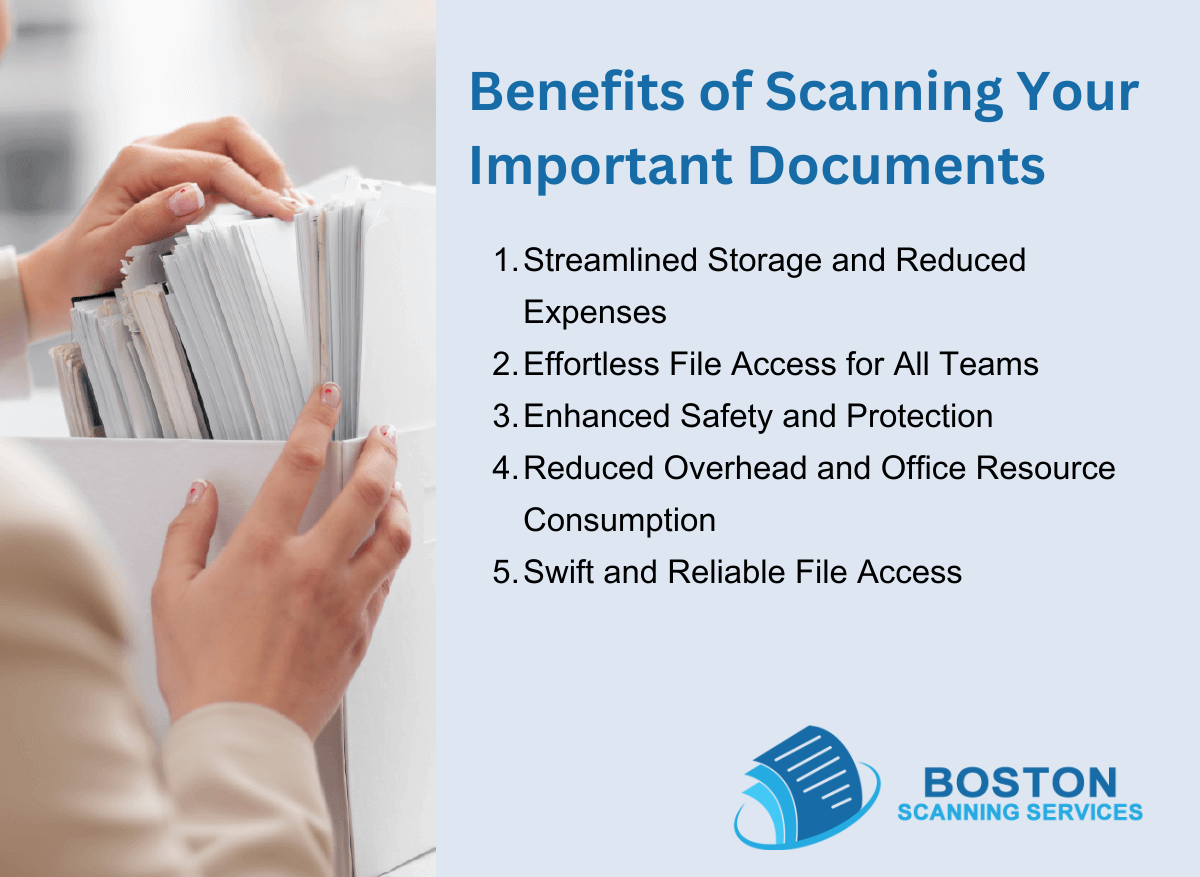 Digitizing your crucial documents with Boston Scanning Services is an effective solution to minimize storage expenses and eliminate office clutter. Whether you're an individual, household, business, or organization, this approach helps cut costs associated with storage facilities and additional space.
Effortless File Access for All Teams
Our professional scanning services ensure swift and secure access to documents for remote, hybrid, and in-person teams. Whether your team members are working from the office or remotely, our digitization process guarantees quick access to the necessary documents.
Enhanced Safety and Protection
Every business has confidential documents that require secure handling. With Boston Scanning Services, our document digitizing services enhance the safety of your business by significantly reducing the risk of critical information being misplaced or stolen.
Reduced Overhead and Office Resource Consumption
Partnering with Boston Scanning Services helps you save money by reducing expenses related to paper, ink, and other office resources. By digitizing your documents, you contribute to a more sustainable and cost-effective operation.
Swift and Reliable File Access
Time is crucial, especially in urgent situations. Our digital scanning services ensure faster access to all your important documents, eliminating the need to sift through paper files. Experience efficiency and reliability when you need files promptly.
Get FreeQuotes on Boston Document Scanning Services
If your project doesn't fit these categories or you are unsure of which scanning service is best for your project, just give Boston Scanning Services a call at (508) 425-4100. We have the expertise to handle scanning jobs of any size or scale, and we're experts in imaging services including optical character recognition and document indexing.
For more information or to get started today with any of our available services, call (508) 425-4100 or simply fill out the form to your left to get free quotes on document scanning services. Within minutes, experts from Boston Scanning Services will contact you to assist you with your project.
Frequently Asked Questions
What is document scanning?
Document scanning refers to the process of transforming physical documents into digital form. It involves utilizing a scanner or specialized equipment to capture images of paper documents and store them as electronic files.
How does document scanning work?
Document scanning operates by inserting a paper document into a scanner, which employs light or cameras to generate a digital representation of the document. The resulting image is typically saved as a digital file, often in formats such as PDF or TIFF.
Why might I require a professional for document scanning?
Professionals possess high-quality scanning equipment and expertise to ensure the accurate and efficient conversion of documents. They can handle substantial document volumes, uphold quality standards, and offer services like indexing and organization.
How secure are my documents and information during the scanning process?
Document scanning services usually prioritize security and confidentiality. They may implement encryption, access controls, and secure facilities to safeguard your documents and data throughout the scanning process. Choosing a reputable provider with robust security measures is crucial.
How much does it cost to utilize document scanning services?
The cost of professional document scanning services typically ranges from 7 to 12 cents per page scanned. Your overall expenditure for your document digitization project will vary based on multiple factors, including the quantity of documents requiring scanning, the level of preparation required, and the service location.
What is the typical turnaround time for the digitization and access to my documents?
The time required to complete your document scanning project and provide access to your digital files depends on the nature of your documents, the volume of your order, and the specific scanning services you've requested. At Boston Scanning Services, we are committed to ensuring the accurate scanning of all your crucial documents and timely delivery to you.
What Industries benefit from document scanning services?
Industries that benefit from and frequently require records management, business solutions for storage, and document scanning services often include:
Healthcare, medical offices, and allied fields
Banking, and financial services
Architecture and engineering firms
Creative industries–film, photography, publishing, etc.
Professional services like legal, marketing, and accounting
Social services
Insurance companies
Manufacturing
Transportation and logistics
Education
Retail
Automotive
Federal, state, and local governments